Angry Kid? Here's Five Tips You Need To Know
Is an angry kid negatively impacting your relationship with your partner?
As you've probably figured out, children can feel and express anger at a very young age and their actions can cause a lot a friction as you and your partner try to deal with the situation. As they grow older, children's understanding towards people and things around them starts to change. That means their way of expressing anger may also change, assuming various developmental tasks are accomplished. Helping kids advance through normal stages of development requires appropriate adult modelling, a safe environment, and caregivers who are willing and able to teach their kids effective problem-solving and communication strategies.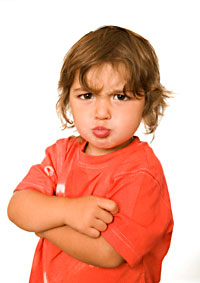 It's your role as parents to model effective anger management techniques and teach your child the same. The result? More harmony and happiness in your household and relationship, and a better future for your child.
The family plays a very important role in the emotional growth of children, which has a direct influence on how they feel and how they express their anger. Research shows that most children tend to imitate the behavior of their parents, either directly or indirectly. So don't do or say things in front of your kids that you don't want them to emulate.
Here are five very simple, proven, effective techniques you can use when dealing with your angry kid.
1. Manage your environment. Try to change the environment at home to prevent experiences or situations that will lead to unnecessary stress, anger or frustration between you and your child. That means, for example, that you may need to change your own style of communication from control talk and reactive listening to straight talk and attentive listening.
2. Don't take their anger personally. This will have direct influence on them. The angrier you are, the more anger your child might have inside, too. Take a break before everything gets out of hand.
3. Distract and deflect. Try to direct their attention away from the current situation. Distract your angry kid and get a break to cool off. Teach your kids, for example, how to take a time out, so they can calm down and return later, ready to deal with the problem.
4. Set boundaries. It's important that caregivers set appropriate adult-child boundaries when they're communicating with kids, like when your kids are having a temper tantrum for example. Modelling good communication skills with other adults and children sets the stage for collaborative, respectful interpersonal relationships in the future.
5. Don't verbally or physically abuse your angry kid. Or at any time, for that matter! Abusing a child will only make things worse and could get you in trouble with the law. Show your kids you love them. A calm tone of voice, non-threatening body language and a fair, positive orientation can go a long way towards setting the stage for active problem-solving.
Visit these pages for more information:
Managing Anger In Your Child: Assertiveness Vs. Aggression
Techniques To Improve Family Communication
Skills To Help Resolve Family Conflict
Time Management Tips Give You And Your Partner More Time Together
Addressing Separation Anxiety In Children
My Parents Hate My Boyfriend (Or Partner)! What Should I Do?
Return to Relationship Advice Home