Marriage Separation Help For Parents 
Each year, close to a million marriages end-a sad but true statistic. Like many other people, you may be seeking marriage separation help if your marriage is in limbo.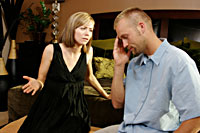 You probably never thought you'd be here, facing a separation or contemplating divorce. When you said, "I do", you meant it. Now, you may be struggling and not sure how to rebuild your life.

Parenting during this transition is especially difficult. You need to maintain a strong sense of self to control your emotions. At the same time, you must help your kids cope with all of the upheavals.

Fortunately, there are many services and information that offer marriage separation help to you and your children. The five tips below will set you on the path towards a vibrant, meaningful future and a healthy relationship with your children.


Marriage Separation Help TIPS FOR PARENTS

Ride the emotional roller coaster: Everyone going through a separation will face myriad emotions, including anger and grief, euphoria and anxiety, isolation and guilt, among others. Accept it as part of your healing process. Also, accept that separation is a process that unfolds over time. You won't be able to deal with all of the emotions that arise overnight; it may take years.


Help your children work through their emotions: Encourage your children to talk openly about their feelings and seek professional help if you think your family can benefit from counseling. Also, let their teachers and coaches know what's going on in their lives. Ask them to tell you if your children exhibit any behavior that concerns them.


Replenish the well: As difficult as it may seem, you need to take time to rejuvenate yourself and seek marriage separation help. If you don't, you'll lack the energy to meet the day-to-day challenges of parenting. Nor will you be able to find joy in your new life.

Parents in particular need to present a positive and energetic face to the world; your children need to have faith in your strength and in your ability to nurture and guide them as before.


Build a support network: You may encounter many unexpected challenges after a separation, like moving to a new home or community, losing friends and relationships, family pressures, dealing with a drastic drop in income and difficulty concentrating on daily tasks. If your former spouse has custody or you share custody, you may feel lonely and resent not being able to spend more time with your children.

Enlist the support of family or good friends to provide marriage separation help. If you've moved, make an effort to meet your new neighbors as well as parents at your children's school. If necessary, find a counselor or a mentor who can help you set new goals and work towards them.


Get help if you need it: During the tumultuous time of separation, there's no shame in seeking professional help. You are swimming in uncharted waters. If you're becoming depressed, feel out of control or are subjected to abuse or threats from your spouse, seek help immediately. Call 911, the police or a phone support line. Set a powerful example for your children. Show them that everyone must seek help from time to time.
Seek marriage separation help as soon as possible. You won't be able to help your children through this difficult time if you can't develop your own healthy coping skills first.
Visit these pages for more information:
Are Rebound Relationships After Divorce Right For You?
Recovery From Divorce Means Focusing On You
Minimizing Divorce Effects On Children
How Divorce Affects Children Can Depend On How You Communicate With Them
Divorce Advice For Men Can Help You Survive This Major Life Change